IAN REID, FARMER AT NEWBIGGING AND CHAIRMAN OF THE HALL COMMITTEE
I came to Tealing in 1940, only one year old. One of my earliest memories is of being bathed in the sink (no luxury bathrooms in those days) and the water being either too hot out of the kettle or too cold. Ugh! At five I went to Murroes Academy where I made many friends and got a good education that prepared me for the world at large. I am sure that the Dominie missed his vocation though, for the way he wielded the stick would have been better used on cattle than on our backs!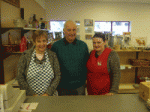 Ian and his team at
the Speckled Hen
Being of farming stock there was never any doubt about what I would do. I had started my apprenticeship at ten, feeding the cattle and having a shot on the old Fordson tractor, later to be replaced by the old Fergie. In 1903, my grandfather John Robertson of Blairgowrie, was one of the first four raspberry growers in Blair and so it was that we began to grow raspberries at Newbigging in 1946. As the crop became more and more important, we had to use outside pickers. In the 70's and 80's it seemed that half of Tealing helped pick the berries. Whole families came along -Mums and bairns during the day, joined by Dads at nights and weekends. I remember in particular the Chapman, Winter, Begg, Wilkie, Reoch, Paton, Morrison, Black, Watson, Motion and McIntosh families all being a great help, but there were many others. Without them, the crop would not have been gathered, so many thanks to all the "Tealing Berry Pickers".
Another early and vivid memory was the visit of the threshing mill. It was a big occasion on any farm and I will always remember the sight of the steam engine with the sparks flying out of the lum. Here again neighbours rallied to help out with "the Mull" and relatives from Alyth, Meigle and Kirrie also came along, making this a memorable occasion. Threshing mills have disappeared to be replaced by combines, balers and a host of other machines to do the work. Long ago there were no fancy weed killers or sprays, just all the good folks working hard together. These days we are left with a skeleton staff on the farms and a load of machinery. The two-way trade in produce and services with Dundee has totally disappeared.
On a recent visit to Tealing, one of the aircrew who had served at the Drome remarked that he hardly recognised the village at all after 55 years. He recalled that during wartime we had nothing but we had everything, meaning that there was a great community spirit then. I hope that the new millennium will rekindle that spirit in Tealing.
(Written in Spring 2000)