COUNCILLOR FRANK ELLIS, COUNCILLOR FOR SIDLAW WEST, ANGUS COUNCIL
I have represented the Parish of Tealing from 5th May 1994 when I was elected to represent Sidlaw Ward 31 on Tayside Regional Council. I still represent Sidlaw West, which includes Kirkton of Tealing up to Huntingfaulds. My observation over the years is that in partnership with the Community Council, School Board and Village Hall Committees, unlike the former days when we were within the Council Administrative Boundary of Dundee, the rural community has recognised that it has a voice of influence and is more determined to use it. The Tealing residents have taken ownership of Angus Council and it is my opinion that the residents feel valued by Angus Council.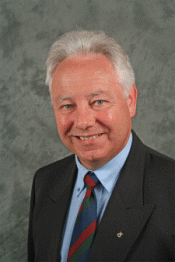 Councillor Frank Ellis
1949 - 2009
My hopes for the future of Tealing is that together we can first, successfully in the near future resolve the vehicular and pedestrian safety issue of the A 90 / dual carriageway; secondly, ensure that the lovely environment we live in is protected for future generations and thirdly, encourage small businesses to invest in our area to ensure that rural Tealing is vibrant and there is employment opportunities for the residents who live there. My message to Tealing residents is that it has been a pleasure and honour to represent you from 1994 and I wish you all good health and prosperity in this New Millennium.
(Written in Spring 2000)